The best of the Big 4 on the big screen for the first time ever was everything that a wrestling pay per view should be. Elation and heartbreak riddled the show from the first bell at SummerSlam 2021.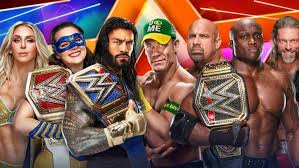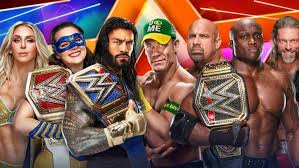 Starting off was a change of titles in a show that was rumored to protect all current Superstars with gold around their waist. RK-Bro came out triumphant against Styles & Omos, which on paper made no sense since Omos's sells were clearly choreographed. There was no way that RK-Bro would have been able to take a W even if this was a handicap match. Literally all I can remember from the matchup was Riddle's sells & Omos' no-sells. Both teams have a clock on them before implosion and it will be a sight to see on a future PPV. And WWE needs something to look forward to with their product because the next match was where things took a turn for the worse : Bliss v. Marie should have been regaled to a dark match. These wrestler's PG-era schticks have more than worn out there welcome, and despite each of these competitor's vacations away from the squared circle – they still are two of the worst wrestler's to ever step foot in a WWE ring.
The Marie & "Doudrop" connection finally imploded in the segment, but that was an afterthought – especially when the best wrestler in the spot didn't even wrestle in the match. Priest appeared sloppy (possibly drunk) in his match against the placeholder champion – workhorse, named Sheamus. There was an angle there with Sheamus wearing a protective face mask, which was well utilized, but I want to see that on screen again as much as I want to see Randy Orton with facial hair. Priest walked away champion, even had Tiffany Haddish give him the post-match promo spot, but still appeared far from confident. Now that he has earned the U.S. title, Priest is at the top of the mid-card and on his way to transcend those boundaries. As time passes though, I am eager to see him carry a match instead of letting a veteran opponent outshine him on the canvas.
A family affair took over the next match as it was the Usos humiliating the Mysterios once again for the Smackdown tag titles. I liked the Mysterios' Method Man inspired ring gear with the accents of pink, but Dominick should have stayed away from that white, as the colors clashed. I was also disappointed to see Rey get an endorsement from an alcohol company as the match started. He's from So.Cal, as am I, and we both know what stereotypes come with the brew and what it can do to people in our community.
From the vignette prior to the match, apparently Dominick has started to attempt to use heel tactics to no avail against Rey's wishes. Should they break up down the line, that will be fun to watch, but I want to see them get the titles again. Especially with the Usos bashing Dominick all throughout this match for competing with his father. The Usos are in a stable called the Bloodline. That's just the pot calling the kettle black. And if that isn't a sign WWE needs some new blood in the writing room, take the mugging of the century in Belair v. Banks II.This was the match I paid to see. The vignette was great, recapping all that happened to lead up to this promised show stopper and then the announcement was made that Sasha Banks pulled out for unspecified reasons. My heart dropped. And then Carmella was wheeled out for another rematch against Bianca Belair, as if this years Rolling Loud was any indication those two have no chemistry whatsoever – no matter how many times they go at it. Then the lights dimmed and Becky Lynch returned from maternity leave , cleared the ring of Carmella and took her spot for Smackdown title contention. At first there was almost nothing wrong with this as both Lynch and Banks come from the same legendary Horsewoman stable, but then the ultimate slap in the face occurred : Lynch squashed Belair in less than half-a-minute by offering her a handshake and then transitioning into a title winning roll-up.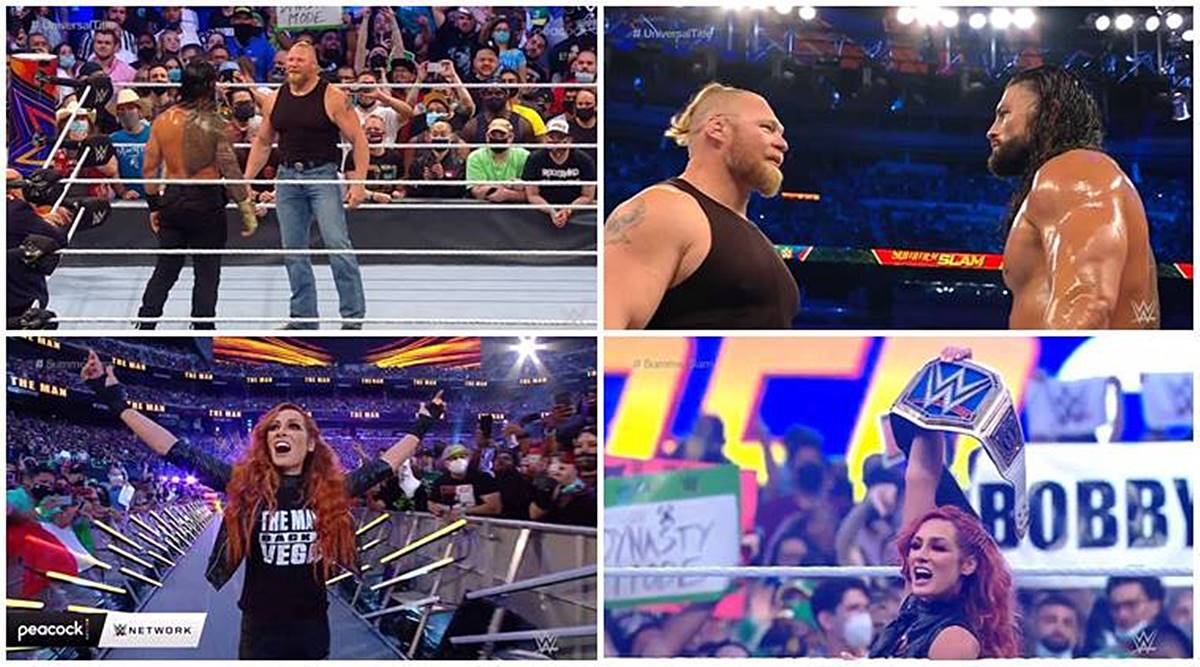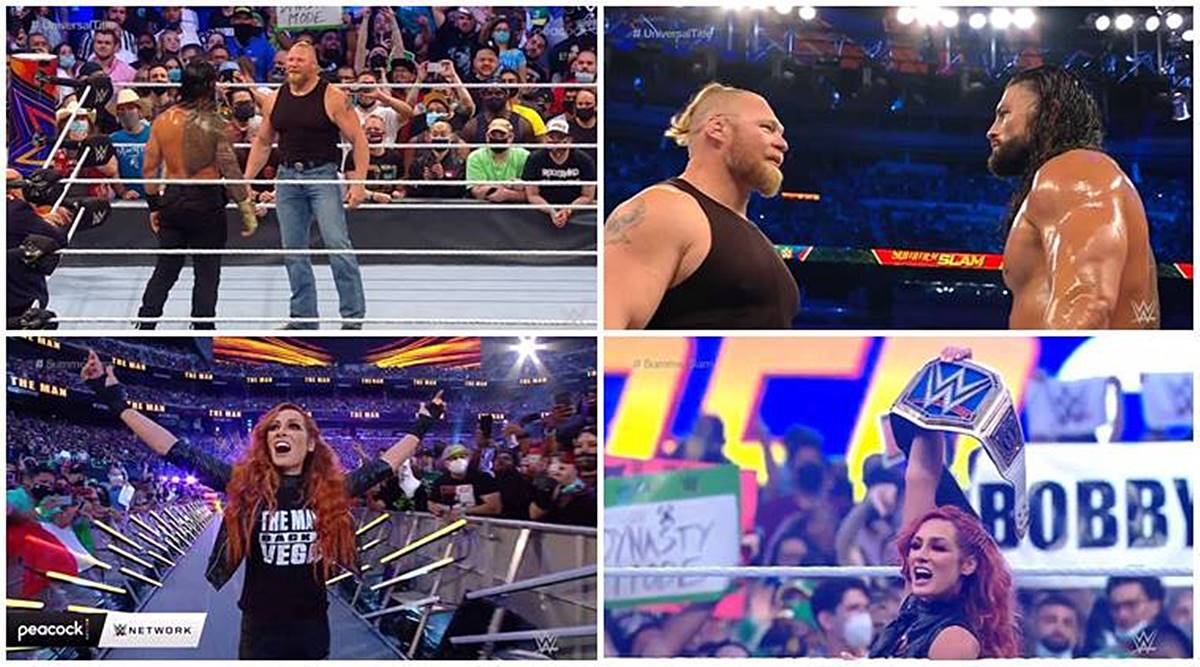 With this, Belair's reign was finished – over a gullible rookie mistake & Lynch was handed a title as a welcome back gift like her name was Charlotte Flair. Belair v. Banks II was thrown away for nothing. It's so easy to see Banks in Lynch's position given the script, which would have set up a Banks v. Belair III, which will now never happen for no good reason. After the match some Olympians were brought out to try and raise morale, but it was obvious the crowd was still upset about what had just occurred and I truly felt sorry for those who spent thousands just to stand front row to see Banks and Belair go at it and ended up receiving a 20 second squash match with Banks as a no-show.
Then McIntyre & Mahal went at it, but these two former world champs delivered a mid-card quality match for a PPV filler that could have been left off the show, along with the King Nakamura segment and the segment of Miz being sprayed down with a water gun like a clown with the best member of the New Day : Xavier Woods. Those three previous men I just mentioned could have been in a triple threat instead of those pointless promos during the event and that hypothetical match could have easily replaced the Mahal v. McIntyre match. That's how replaceable that meet-up between the two former champs was and still was not enough to take the sting out of the absence of Sasha Banks and the mugging of Bianca Belair. The women's division was in the toilet at SummerSlam then Charlotte Flair put on a clinic in a triple threat pushing the talented Rhea Ripley further down the locker room and making Nikki Cross reconsider her embarrassing superhero gimmick.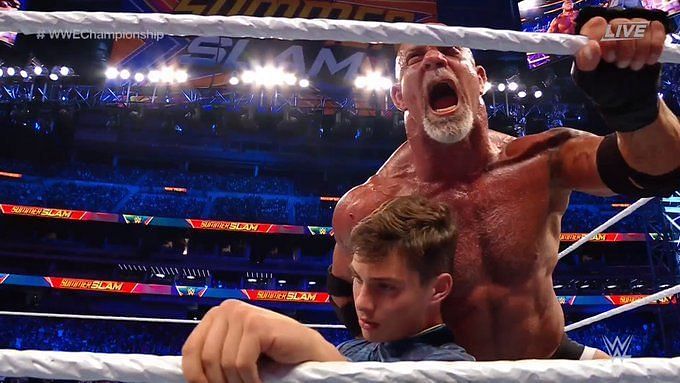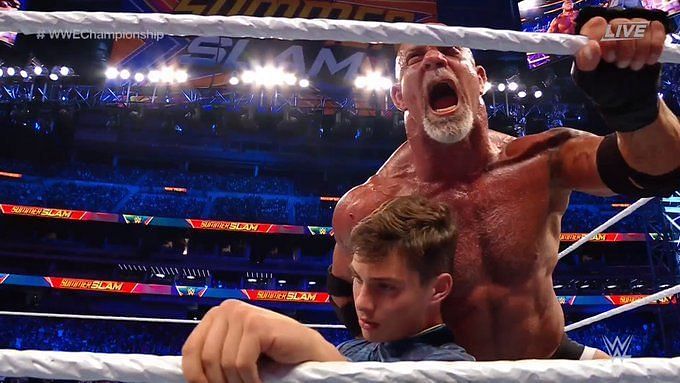 I cant stand Bobby Lashley,(MVP as his manager is the only reason he is even over at the moment) and then this 40 something year old man put a submission hold on a 15 year old kid, who just happened to be Goldberg's son to set up a future feud – but all this accomplished was to make me hate Lashley more and really wish Goldberg was in a wheelchair so he could stop putting crowds through his golden years. Because the next time a ref stops a match of his, it might be because his heart stopped pumping.
Wheelchair worries did not seem to be on Edge's mind as he walked out to his old Brood-era music and performed like he was still in the Ministry of Darkness against Seth Rollins. Rollins was focused on trying to cripple Edge, focusing his every attack on Edge's surgically repaired neck. The two put on a clinic and delivered the match of the night, with Edge pulling out everything in his arsenal from the obligatory Spear's to an amazing old school reverse Boston Crab called the "Edge-U-Cator" which I had never seen before, and would love to see more of. The only drawback is that Rollins just got pushed further down the card, but maybe with Becky back that can give him time to play Mr. Mom.
After heartbreak, happiness, boredom and edge of your seat moments it was time for the main event. Cena vs. Reigns for the Universal Title. Cena was there to add a seventeenth notch under his belt while Roman was there to continue his reign. Cena came out as a parody of himself, comparing to Mario as the mascot who is the face of the game's company. Reigns walked out to a crowd of boos, cool as ever.
Everytime Cena tried to set up his old tricks, whether it was shoulder tackles or five knuckle shuffle's, Reigns countered. Reigns ate at least three F.U.s, as Cena ate Spear's and Superman punches; but at the end of it all, the Big Dog Reigns came out on top, just to tuck his tail between his legs as Brock Lesnar (the man Reigns could never beat for a title) returned back with a beard on his face and so much business in his eyes that even Paul Heyman cowered in a corner.
I don't know how Lesnar will do on the mic without Heyman in his corner. I don't know how Lynch can get the crowd on her side as a face after coming back and robbing Belair of her championship and the audience of the most hyped rematch on the card. What I do know is that Summerlam '21 was pro wrestling at it's finest – a rollercoaster of emotion with investment in every person on the card, whether they wrestled their asses off or were made to look a fool.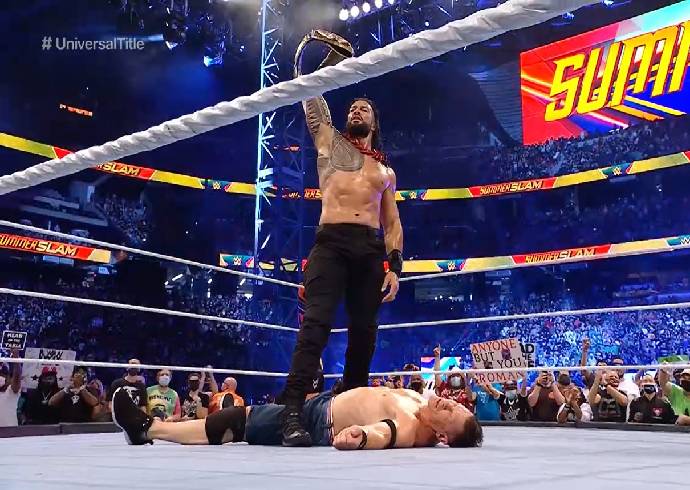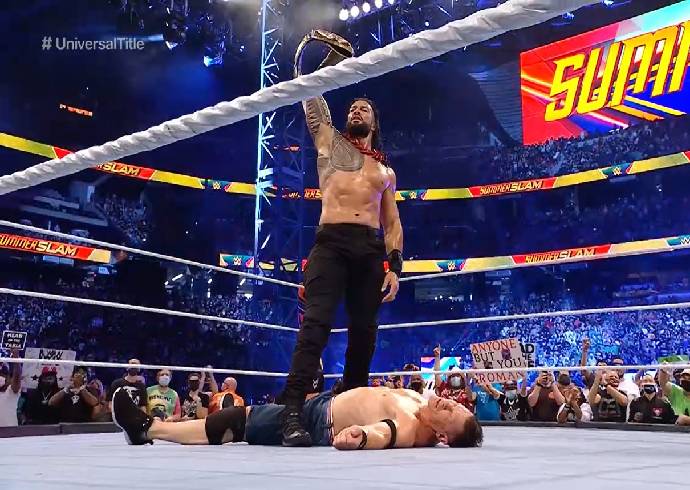 SummerSlam is still the cream of the crop of WWE pay per view programming and should set the trend for more WWE PPV's airing on cinema screens in the near future with Survivor Series looming around the corner of autumn. Nothing is promised in the business of pro-wrestling but WWE continuing to live up to putting the "E" in Entertainment.
Score : 3.5/5
-C.V.R. The Bard
Location: Allegiant Stadium Trending