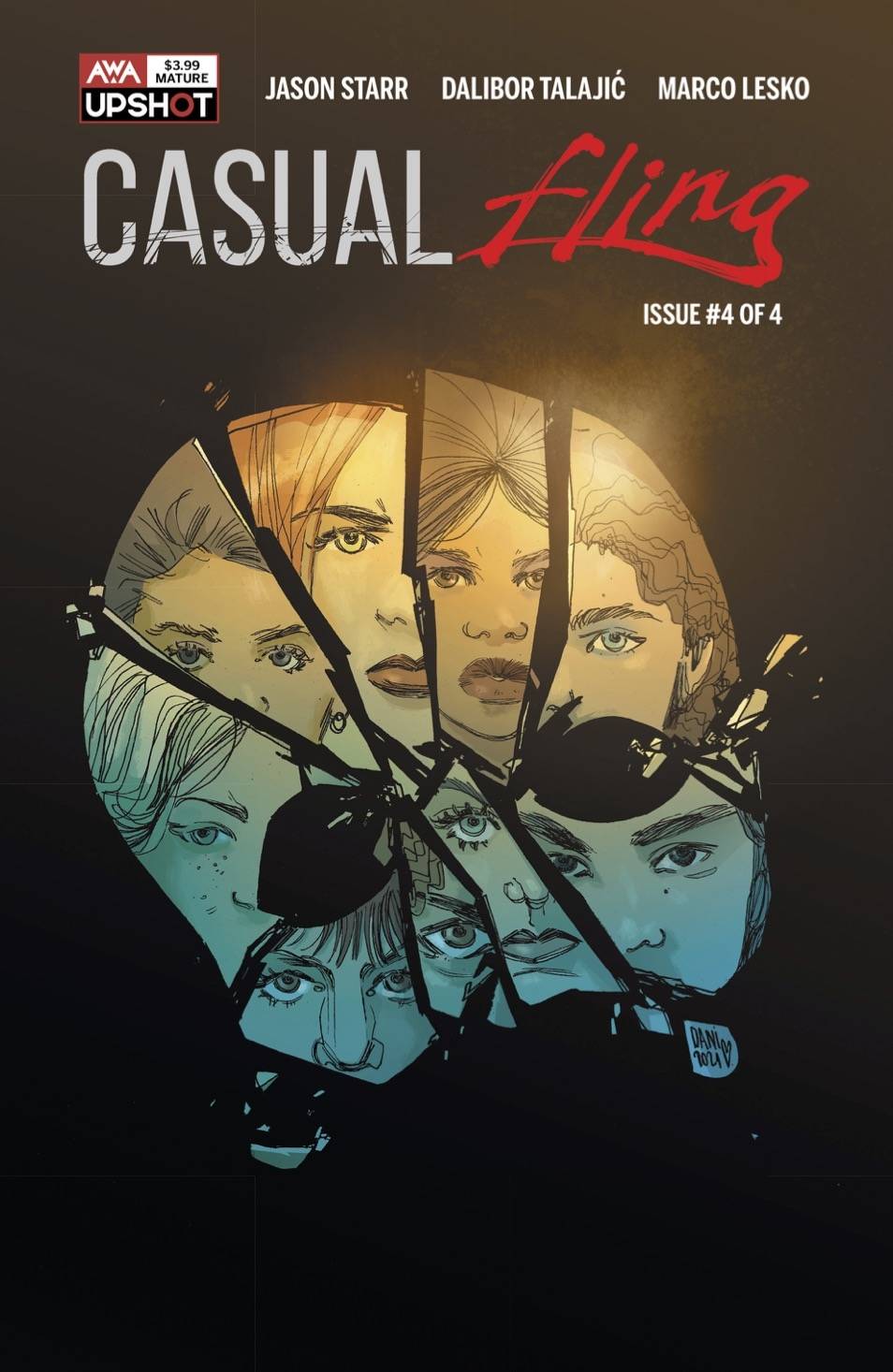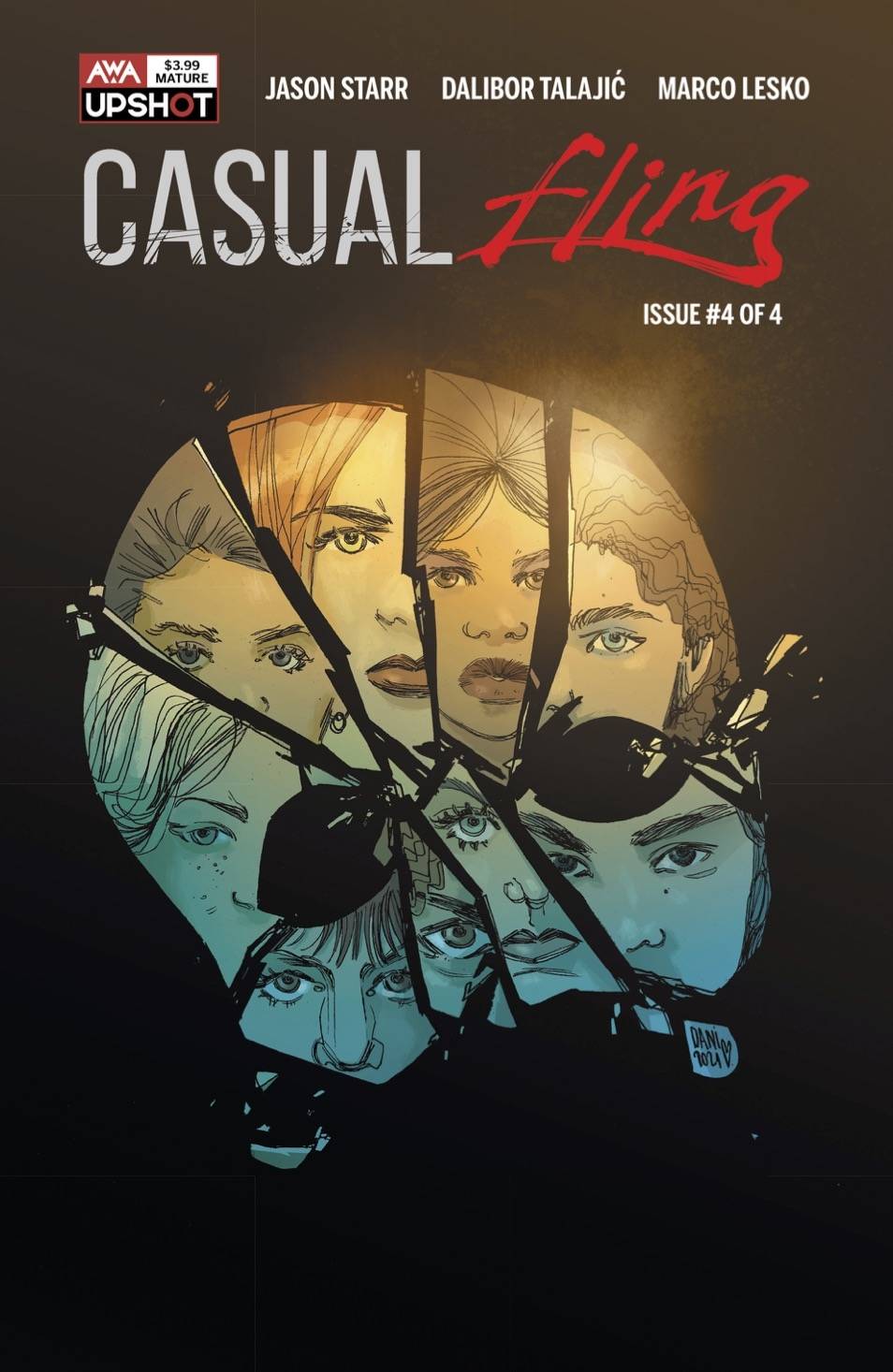 There are a number of movies where something happens to one of the leads, which sets the other into a frenzy of hereto unknown abilities and skills coupled with an endless supply of resilience.  Whilst this final part of this steamy thriller from AWA doesn't plumb to those lowest of contrivances, there are still a few jumps to be had.
Jennifer Ryan has been putting the pieces together, with some help from her I.T. specialist husband and his partner in cyber crime.  The trio are close to identifying the masked culprit to whom Jennifer gave herself when she stepped out of her marriage.  The forthcoming blackmail scheme hid a long line of trespass and this unlikely trio is out to set the record straight and catch their masked casanova.
Jason Starr's mini series of infidelity and relationship woe has morphed into an episode of Law & Order SVU.  This change of pace  may not be a huge problem for some, but I expected more interaction between Jennifer and her husband.  Granted Matthew, the hubby in question. was dealt a massive mis-service in Jennifers life; it's a shame to see him being reduced to a modus operandi in this final part.  Is this a story of about how relationships can fall into the routine, how to rescue that love, infidelity or how the police don't always believe victims of sex crimes?  That is an ambitious load for a book to carry and unfortunately, happenstance and an unrealistic actions and motivations diminish the varied messages on show.  It's as if the aforementioned blackmail scheme and the past seductions seemed to have absolved Jennifer of any blame.  Matthew fails to remember that Jennifer gave herself willingly to someone else and would  have gotten away with it if it wasn't for that pesky blackmail scheme!
Dalibor Talajic's art feels a little rushed here.  There are elements of "real world", which I  enjoyed in the first issue, but this time around the context has changed giving the art a less substantive feel.  Where the art does excel is showing how the previous exciting vibe, at least for Jennifer, of her first tryst gives way to a monotony of conquests and its mundanity from the seducers point of view.  It's as if the thrill of being with someone has deserted him, leaving only the most vacuous of experience, some of which he has to break the law to partake.  Could the emotional aspects be stronger here, especially between Jennifer and Matthew, yes they could but I somehow feel this aspect has been lost along the way.  The colors, provided by Marco Lesko have a dirty, grimy kind of feel which suits the motives of the big bad, whilst also coating every character with a sense walking through the seedier parts fo their lives.  As with the first issue, theres is no letterer credited; whomever it is does a good job of keeping the numerous word bubbles away from detract from the art.
Casual Fling is a mini series that, initially, presents a great idea for a  story, but ultimately gets a tad waylaid by the weight of its own nuances and fails to deliver any true closure for the problems that beset Jennifer and Matthew before golden masks and video tapes.
Writing – 3 Stars
Art – 4 Stars
Colors – 4 Stars
Overall – 3.5 Stars
Written by; Jason Starr
Art by; Dalibor Talajic
Colors by; Marco Lesko
Published by; Artists Writers & Artisans Inc. (AWA)