Diamond Select Toys has started solicitations for some of their upcoming Fall Line Up items. See below for pictures and description. Don't miss out on some amazing pieces.
Marvel Comic Captain America 1/7 Scale Resin Mini-Bust
A Diamond Select Toys release! Yield to the shield! Captain America bursts onto the scene like a Fourth of July firework, joining the all-new series of 1/7 scale Marvel Comics busts! Measuring approximately 6 inches tall, Cap holds his shield at the ready atop a pedestal base. Limited to only 3,000 pieces, it comes packaged in a full-color box with a numbered certificate of authenticity. Designed by Nelson Asencio and sculpted by Juan Pitluk! (Item #MAY212109, SRP: $69.99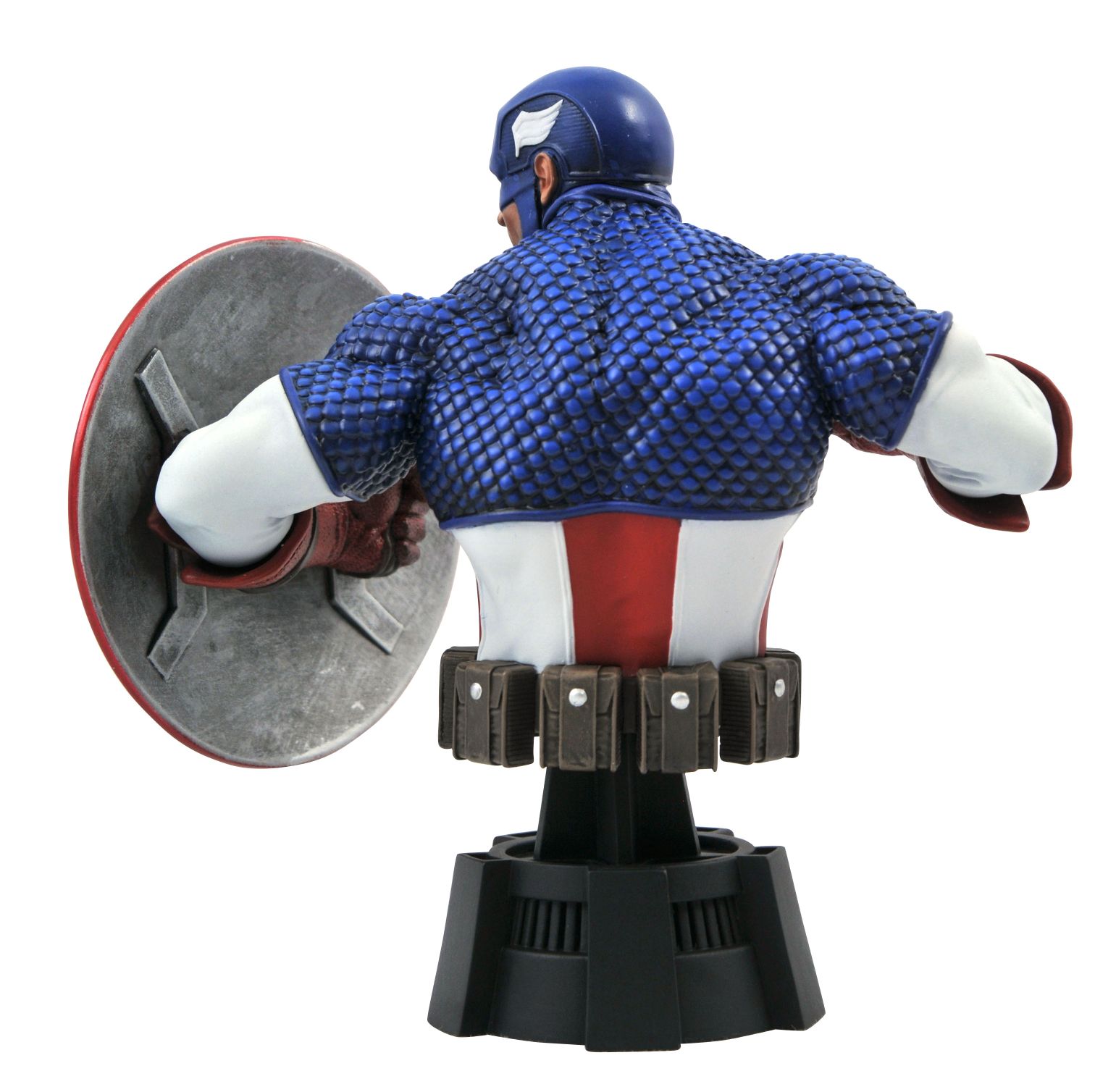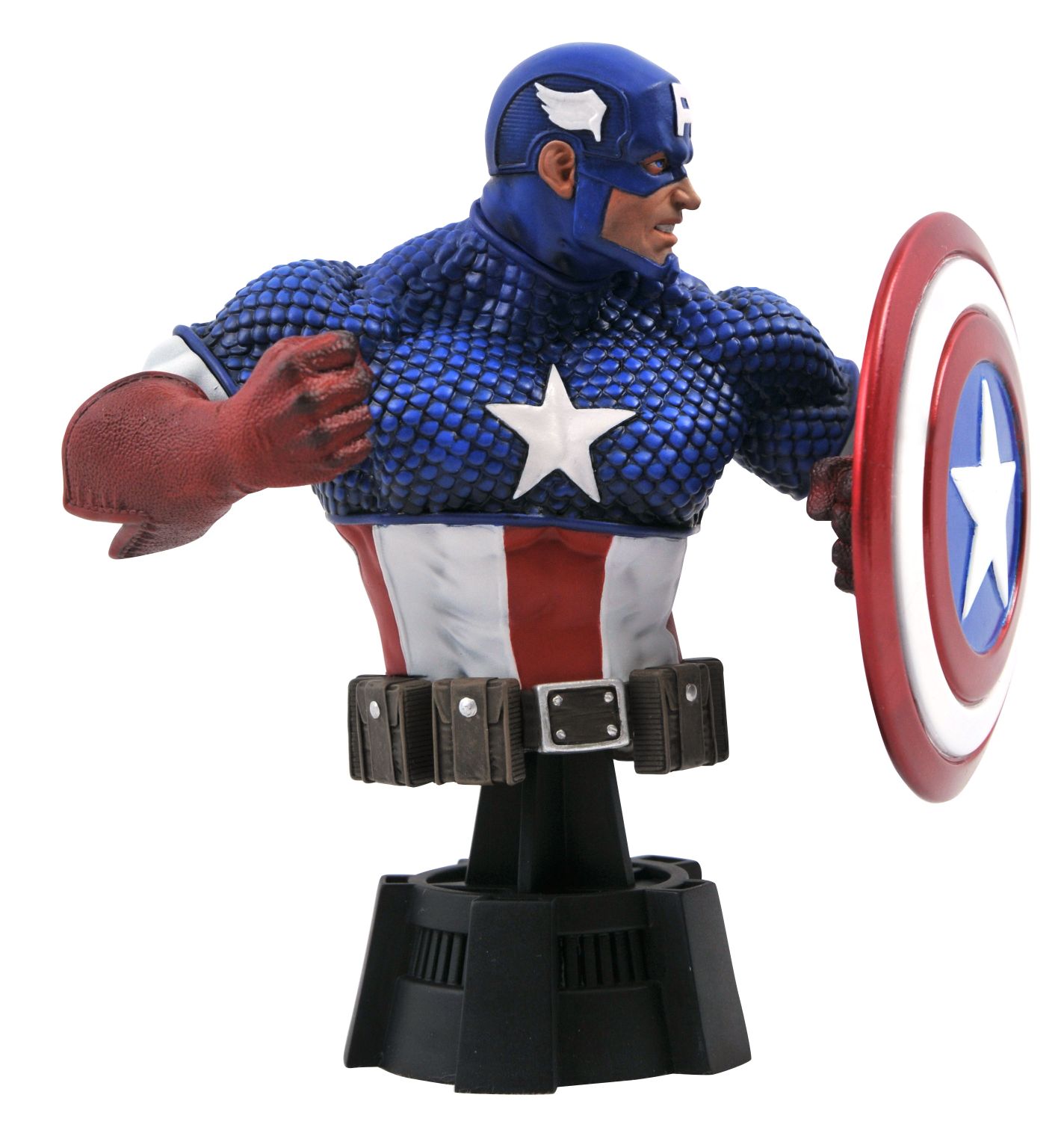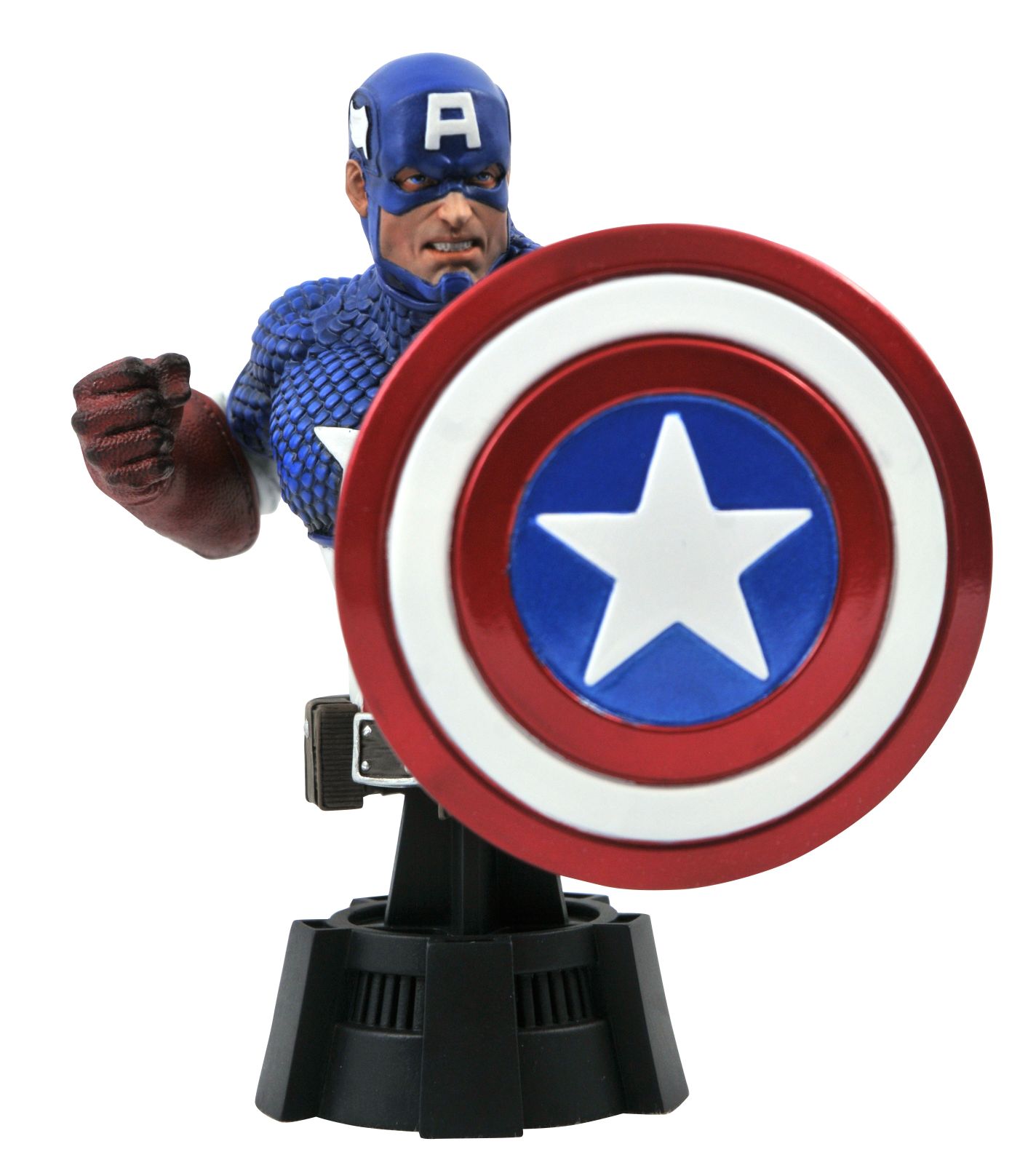 Marvel Comic Minimates Series 81 Dark Phoenix Asst.
A Diamond Select Toys release! The Dark Phoenix has risen! The intergalactic force of nature is back, and this all-new 81st series of Marvel Minimates captures the storyline in 2-inch mini-figure form! Two-packs of Cyclops with Lilandra, Phoenix with Gladiator, and Dark Phoenix with Corsair make up this assortment, and each features 14 points of articulation as well as interchangeable parts and accessories. Each pair comes packaged in a full-color window box. Designed by Barry Bradfield! (Item #MAY212110, SRP: $9.99/ea.)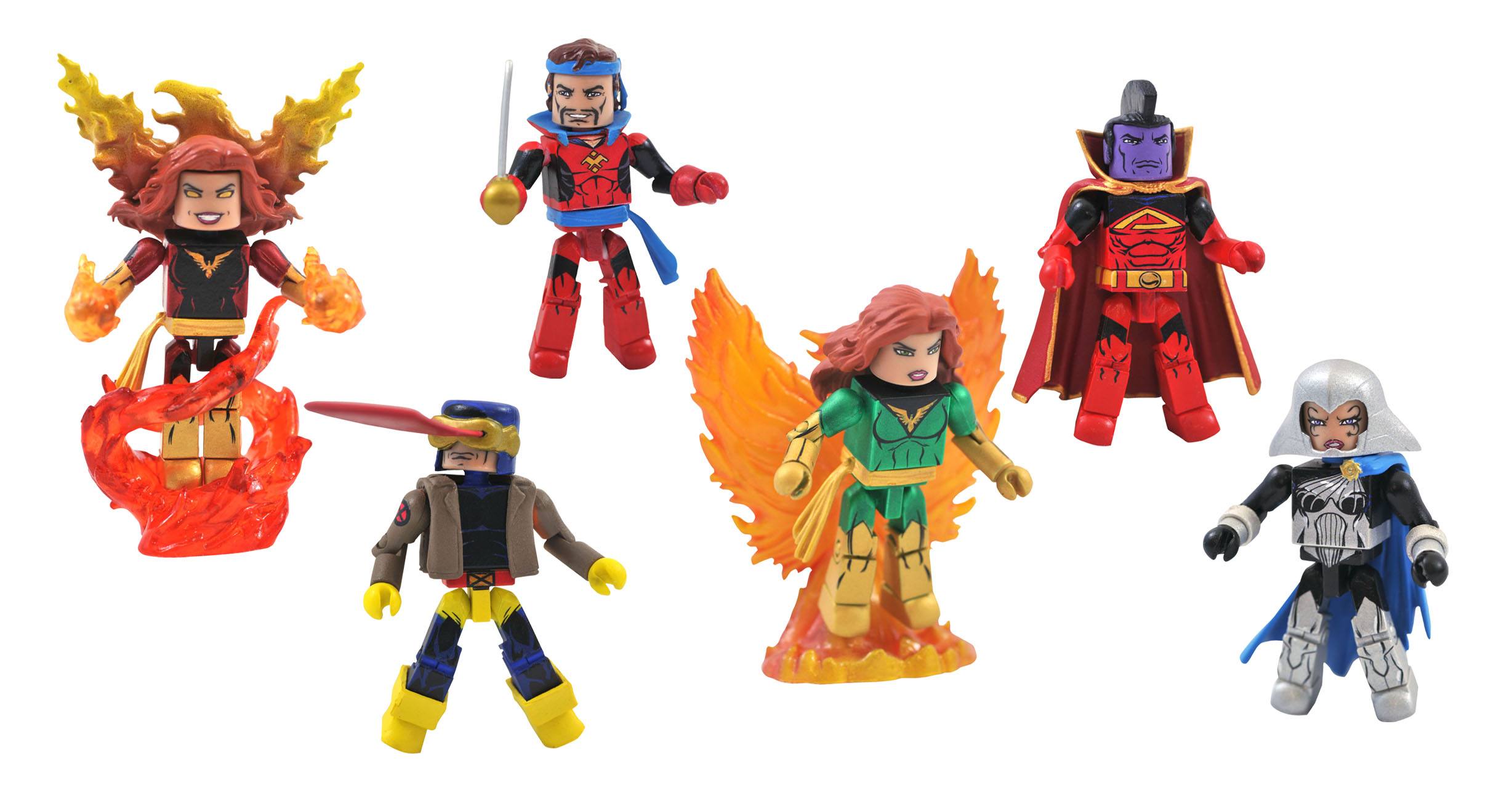 Marvel Animated Mysterio 1/7 Scale Resin Mini-Bust
A Diamond Select Toys release! Is it real, or is it Mysterio?! DST's line of resin mini-busts based on the classic Spider-Man animated series continues with none other than Mysterio! The master of illusion drops everything for this 1/7 scale, approximately 6-inch bust of the domed villain. Limited to only 3,000 pieces, it comes packaged in a full-color box with a numbered certificate of authenticity. Designed by Barry Bradfield, and sculpted by Paul Harding! (Item #MAY212111, SRP: $59.99)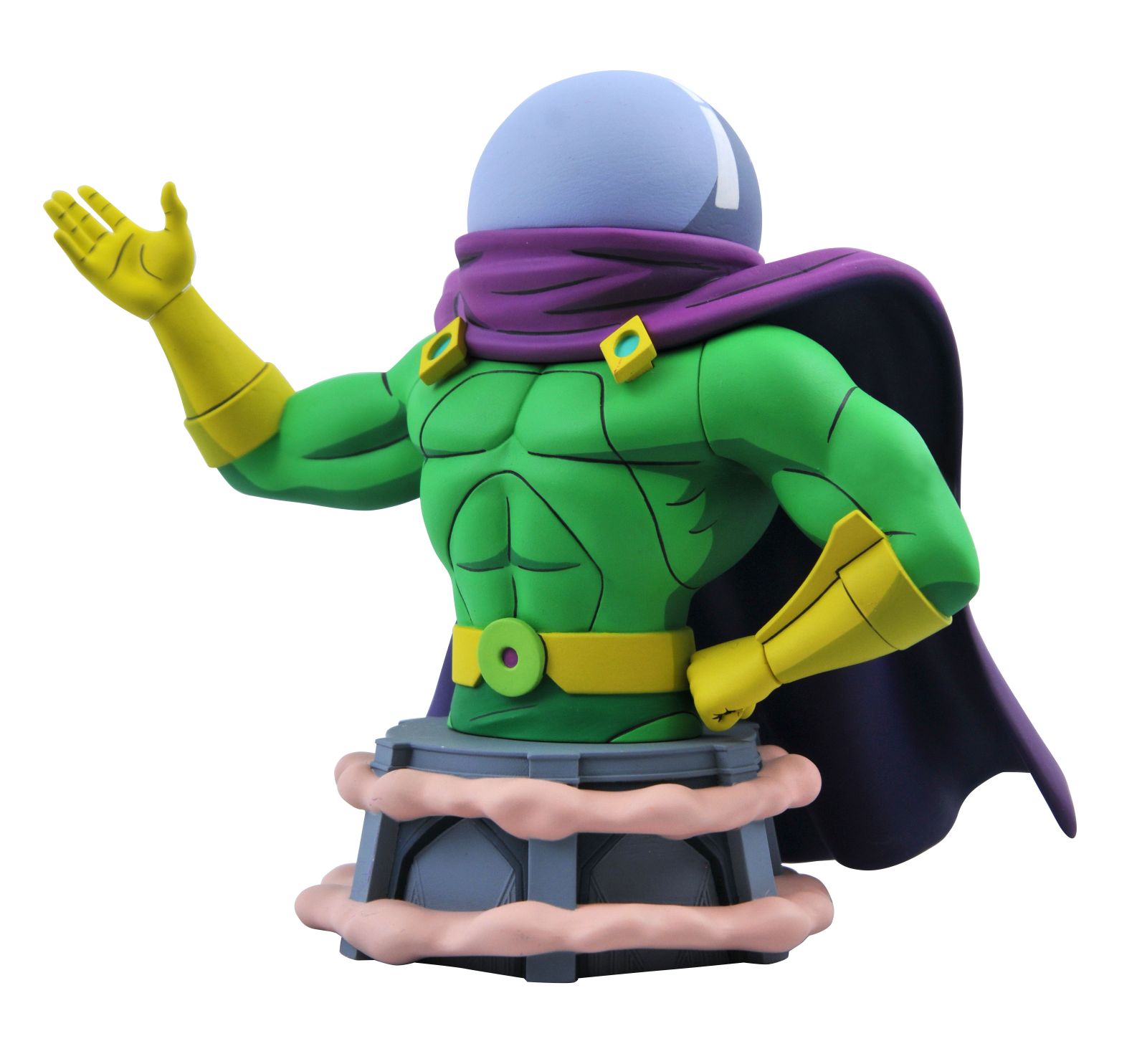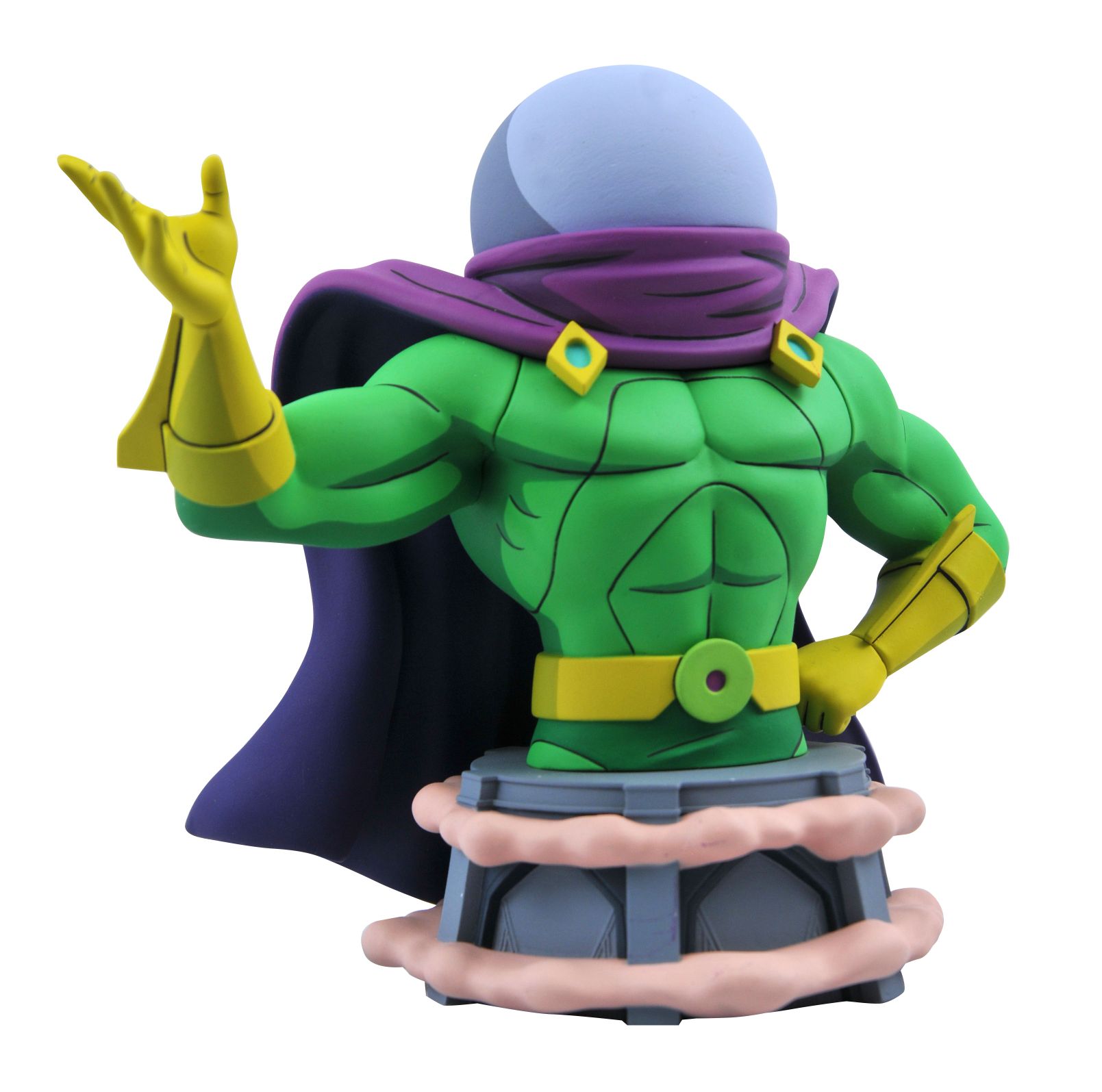 Marvel Comic Premier Collection Colossus Resin Statue
A Diamond Select Toys release! The X-Men's resident strongman takes on a mutant-hunting Sentinel in this, the newest installment in the Marvel Premier Collection! Measuring approximately 16 inches tall, Piotr Rasputin holds a robot torso over his head in this piece featuring detailed sculpting and paint applications. Limited to only 3,000 pieces, it comes packaged in a full-color box with a numbered certificate of authenticity. Designed by Shawn Knapp, and sculpted by Alejandro Ezcurra! (Item #MAY212112, SRP: $350.00)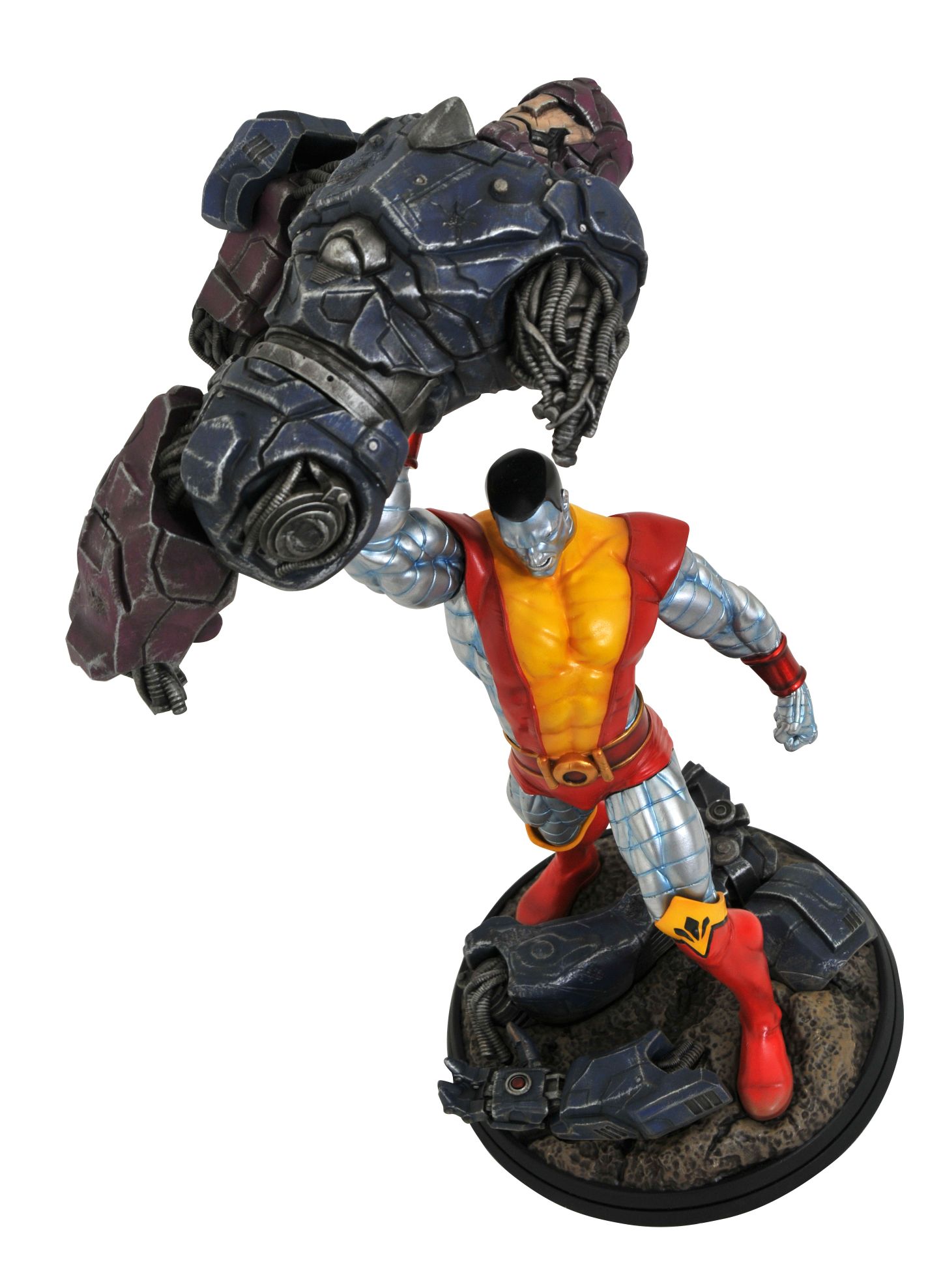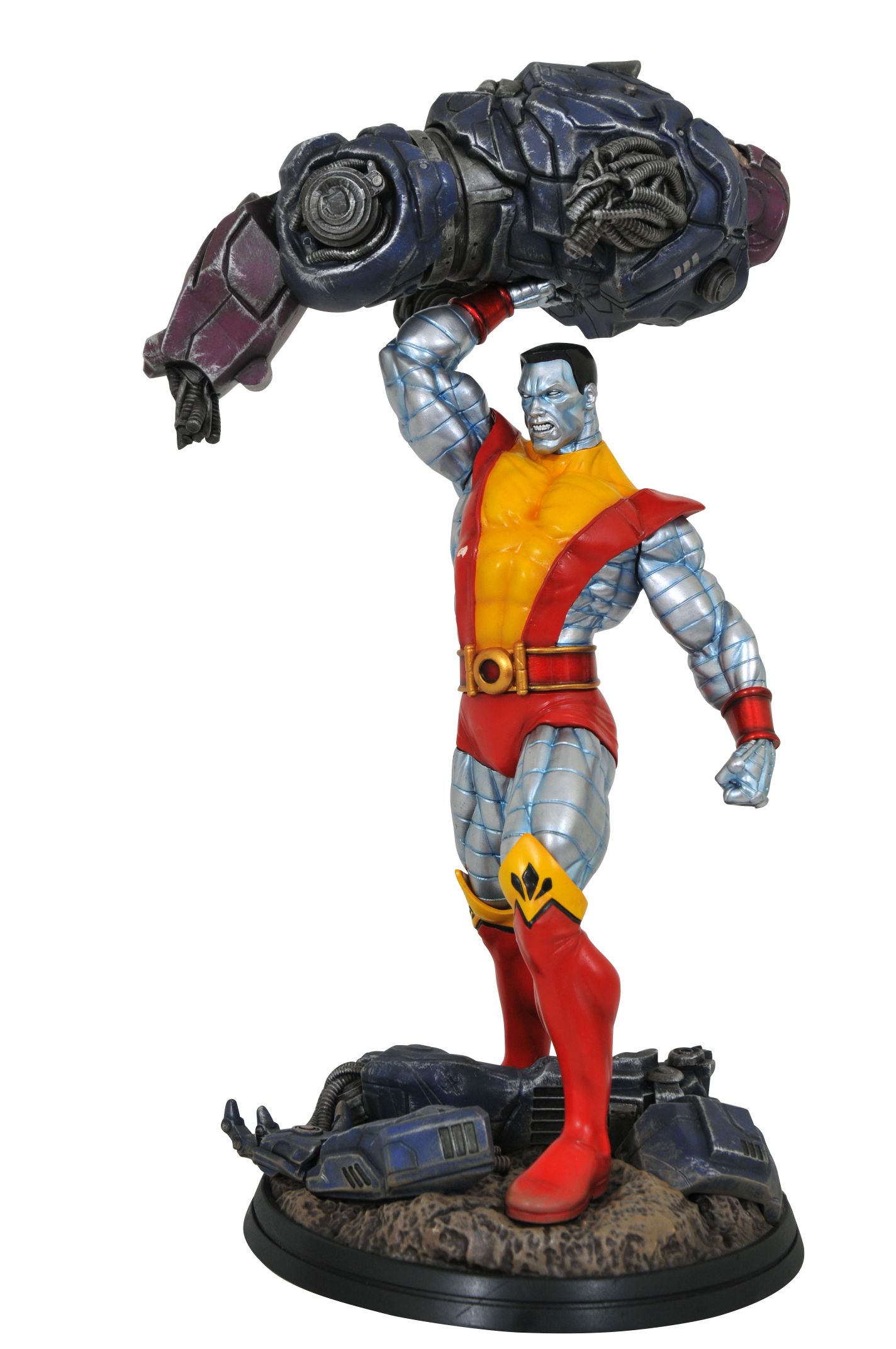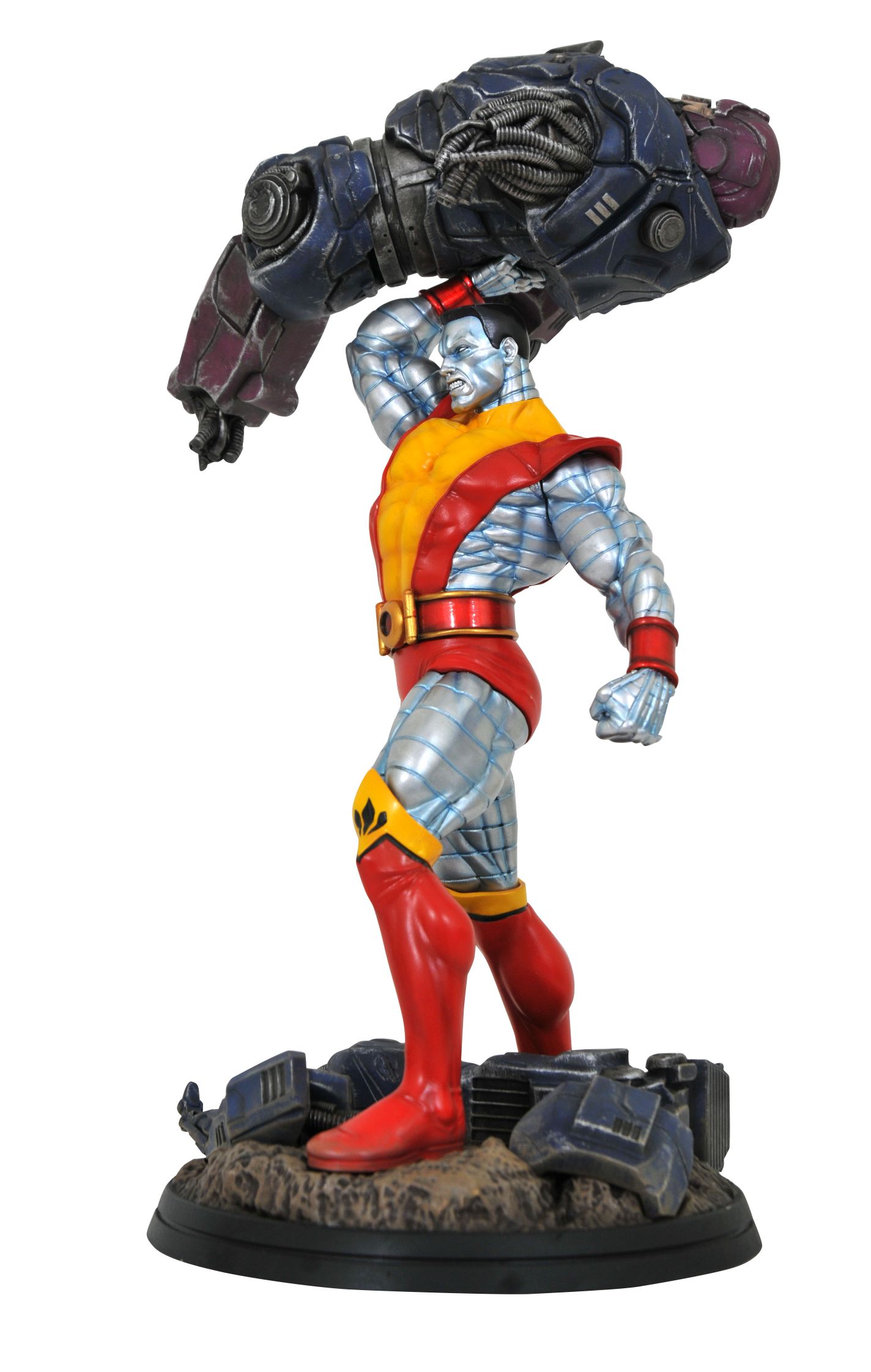 Marvel Comic Gallery Wasp PVC Diorama
A Diamond Select Toys release! The winsome Wasp joins the fray, as this battle-inspired series of Marvel Gallery Dioramas continues! Flying above a battleground landscape, the Wasp charges up a bioelectric sting in this all-new sculpture made of high-quality PVC. Measuring approximately 13 inches tall, the Wasp features detailed sculpting and paint applications, and comes packaged in a full-color window box. Designed by Nelson X. Asencio, hand-sculpted by Jean St. Jean! (Item #MAY212113, SRP: $49.99)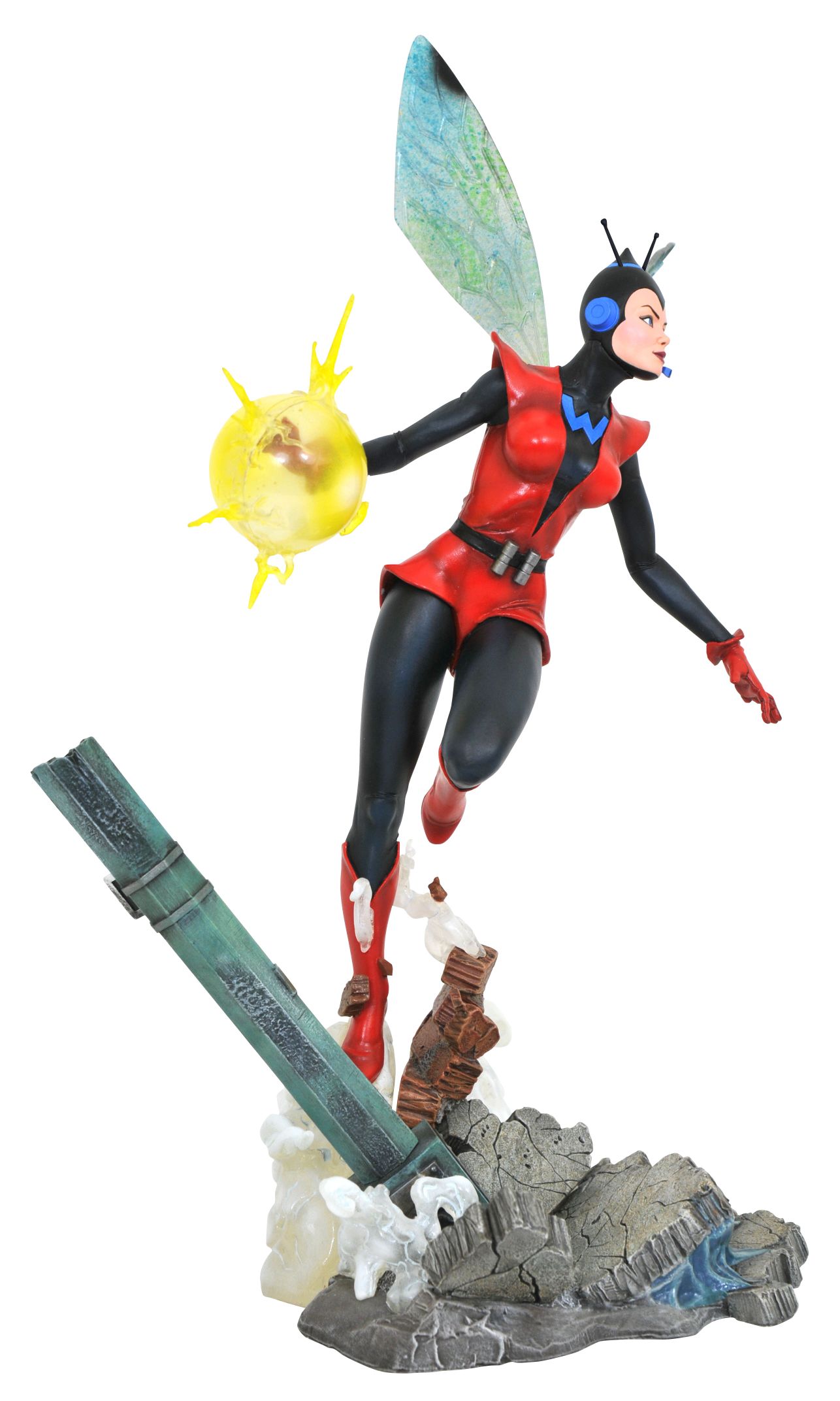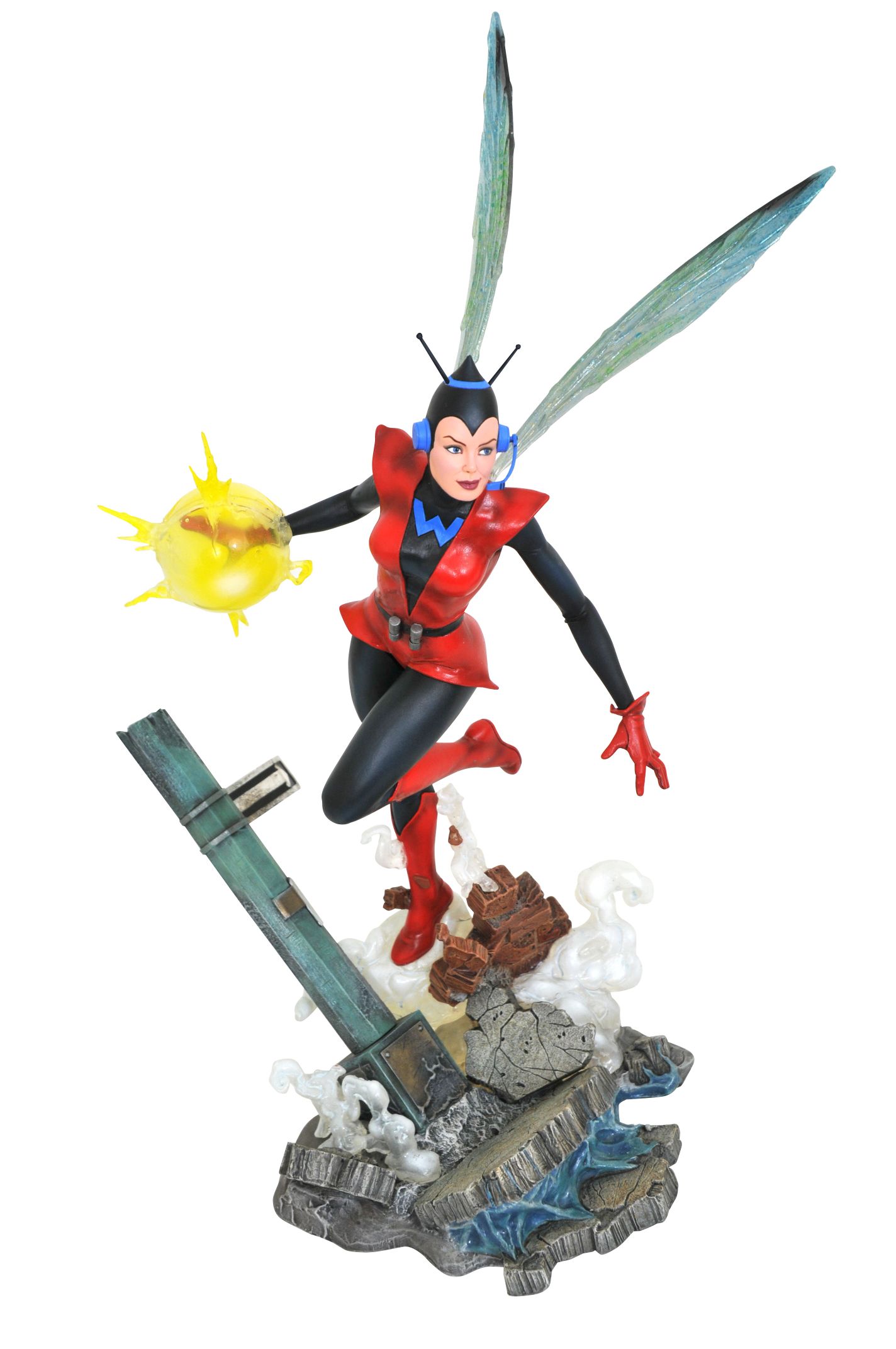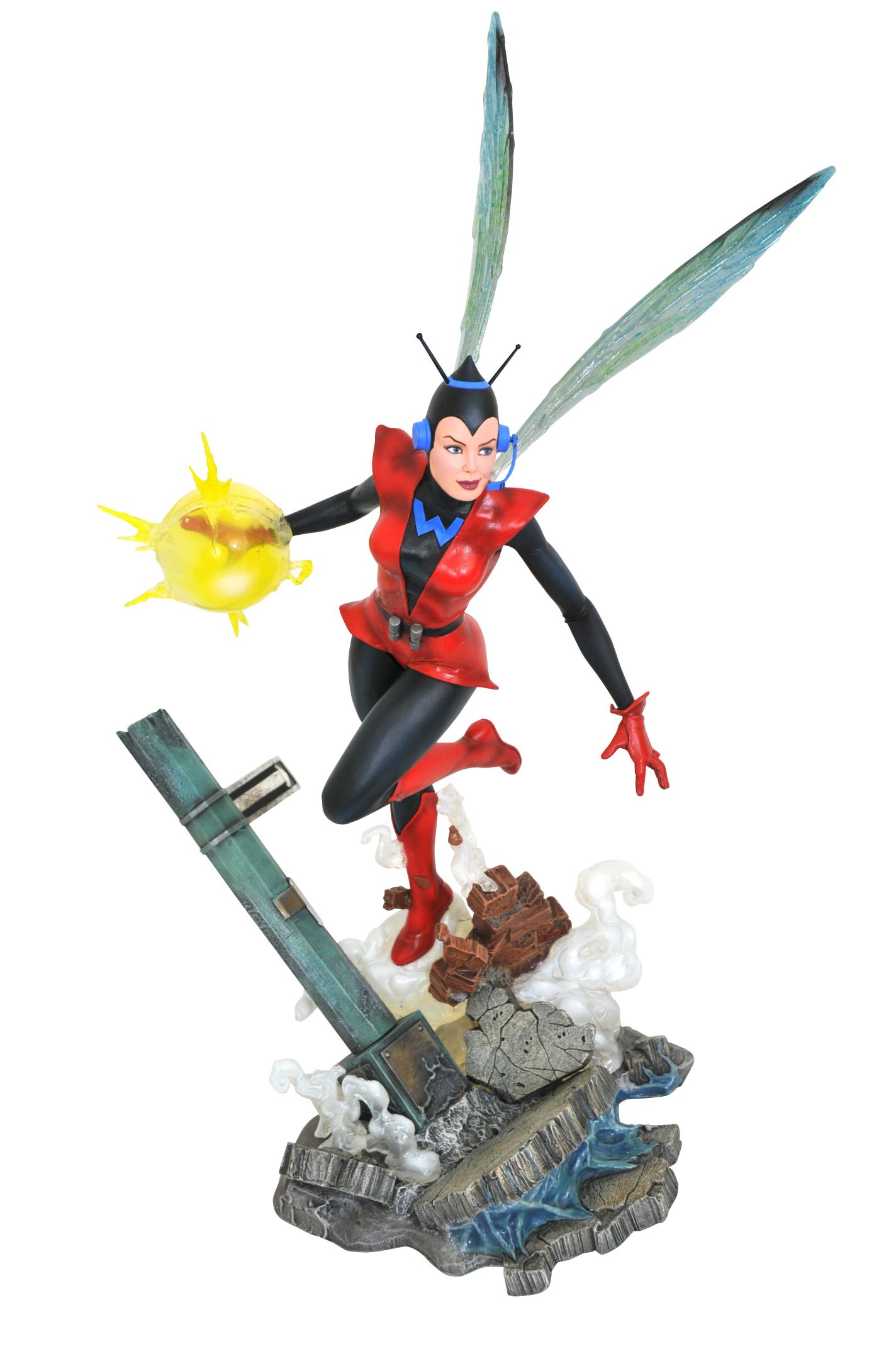 Marvel Select Watcher Action Figure
A Diamond Select Toys release! Need someone to keep an eye on your Marvel Select collection? Uatu is back, baby! This highly sought-after action figure of Uatu the Watcher is finally back in production after years of scarcity! Standing approximately 9 inches tall, this figure features 12 points of articulation and includes a moon diorama base. It comes packaged in the famous Select action figure packaging, with side-panel artwork for shelf reference. Hand-sculpted by Steve Kiwus! (Item #MAY212115, SRP: $29.99)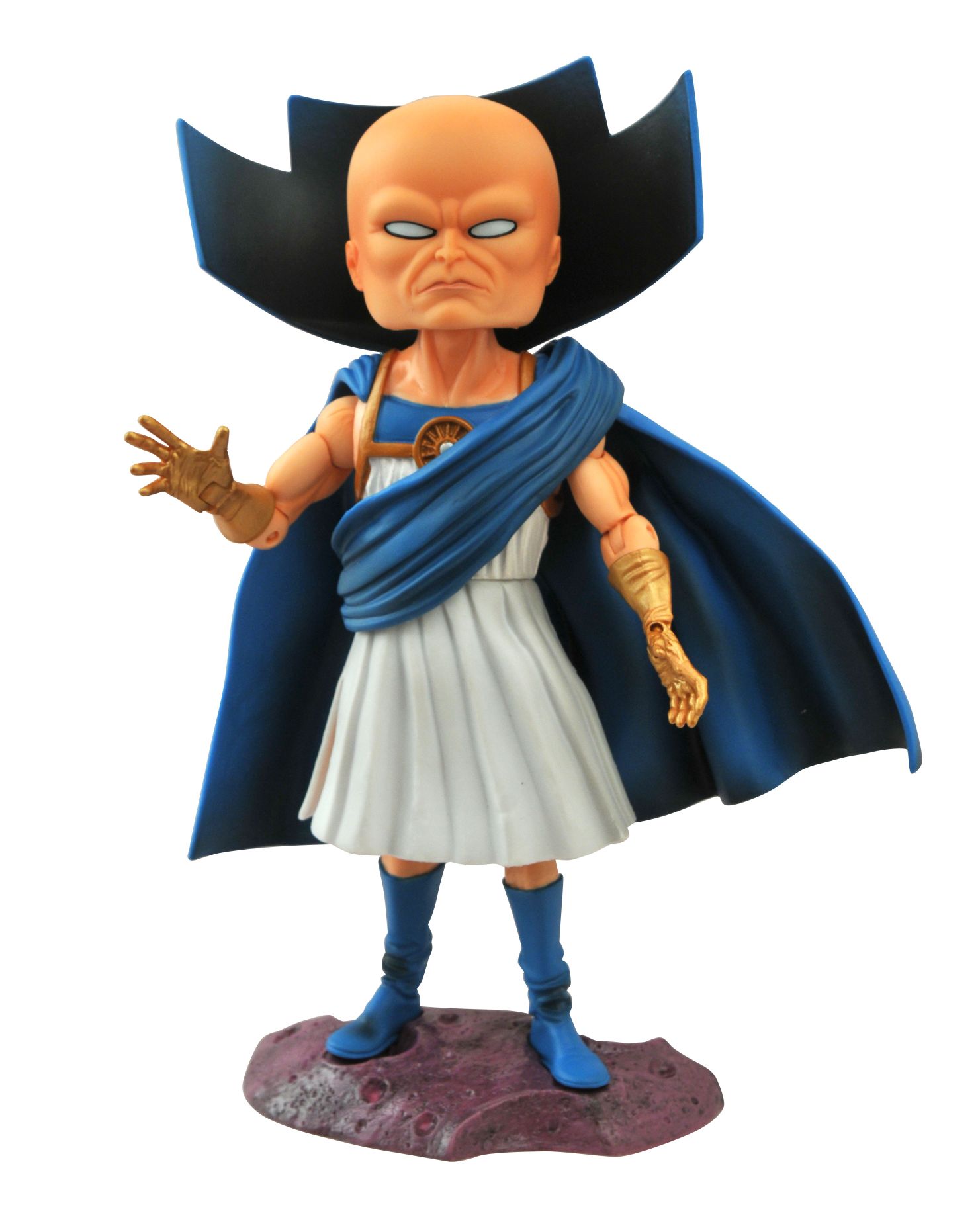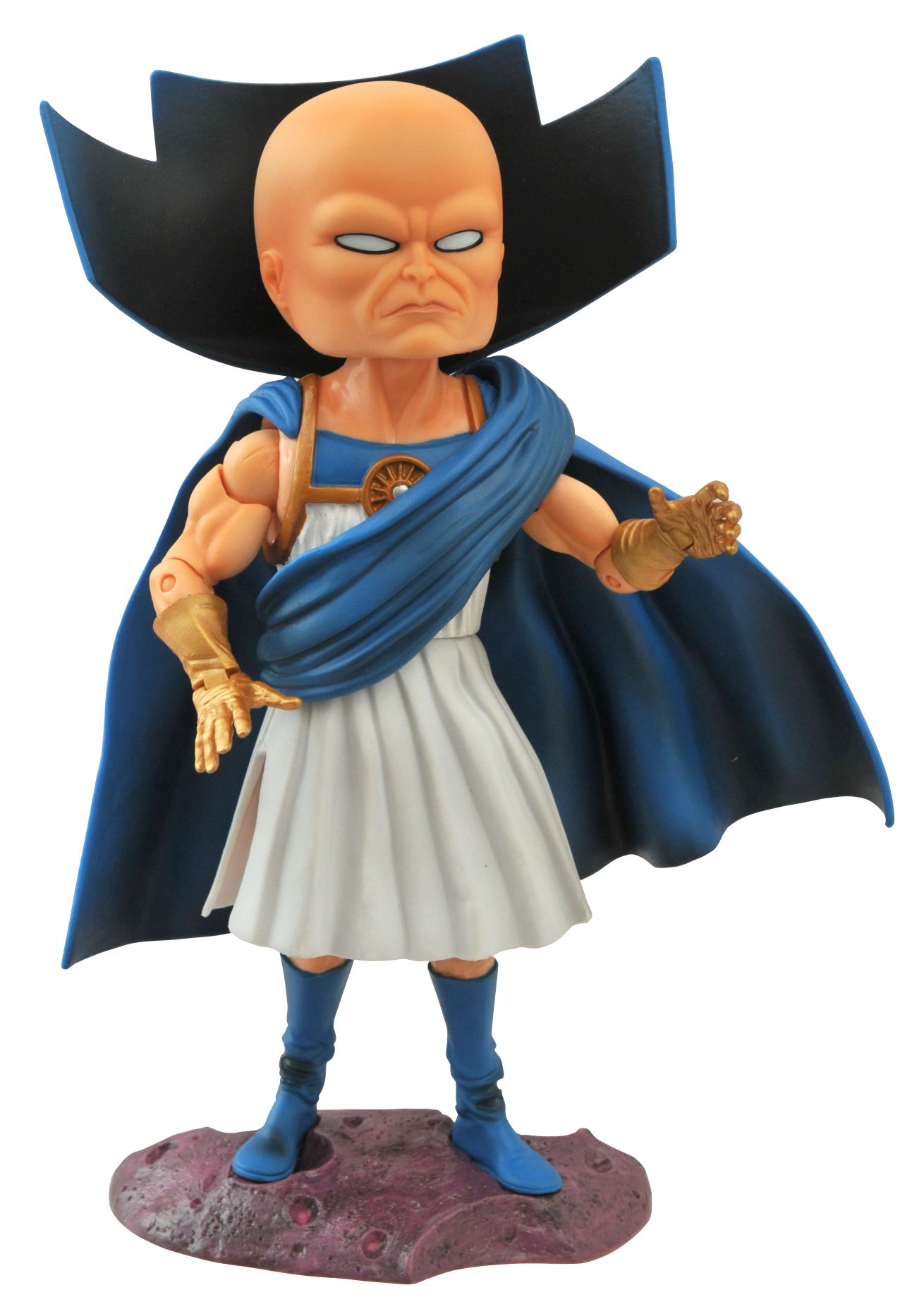 Star Wars The Mandalorian Death Trooper 1/6 Scale Mini-Bust
A Gentle Giant Ltd. release! These stormtroopers are back in black! The Death Trooper is an elite stormtrooper, seen in Star Wars; Rogue One and The Mandalorian as well as numerous video games and comic books. Wearing all black, they strike a frightening appearance, and now they're the newest 1/6 scale mini-bust from Gentle Giant Ltd.! Measuring approximately 7 inches tall, this resin bust features detailed sculpting and paint applications. Limited to only 1500 pieces, it comes packaged in a full color box with a numbered certificate of authenticity. Designed and sculpted by Gentle Giant Ltd.! (Item #MAY212115, SRP: $120.00)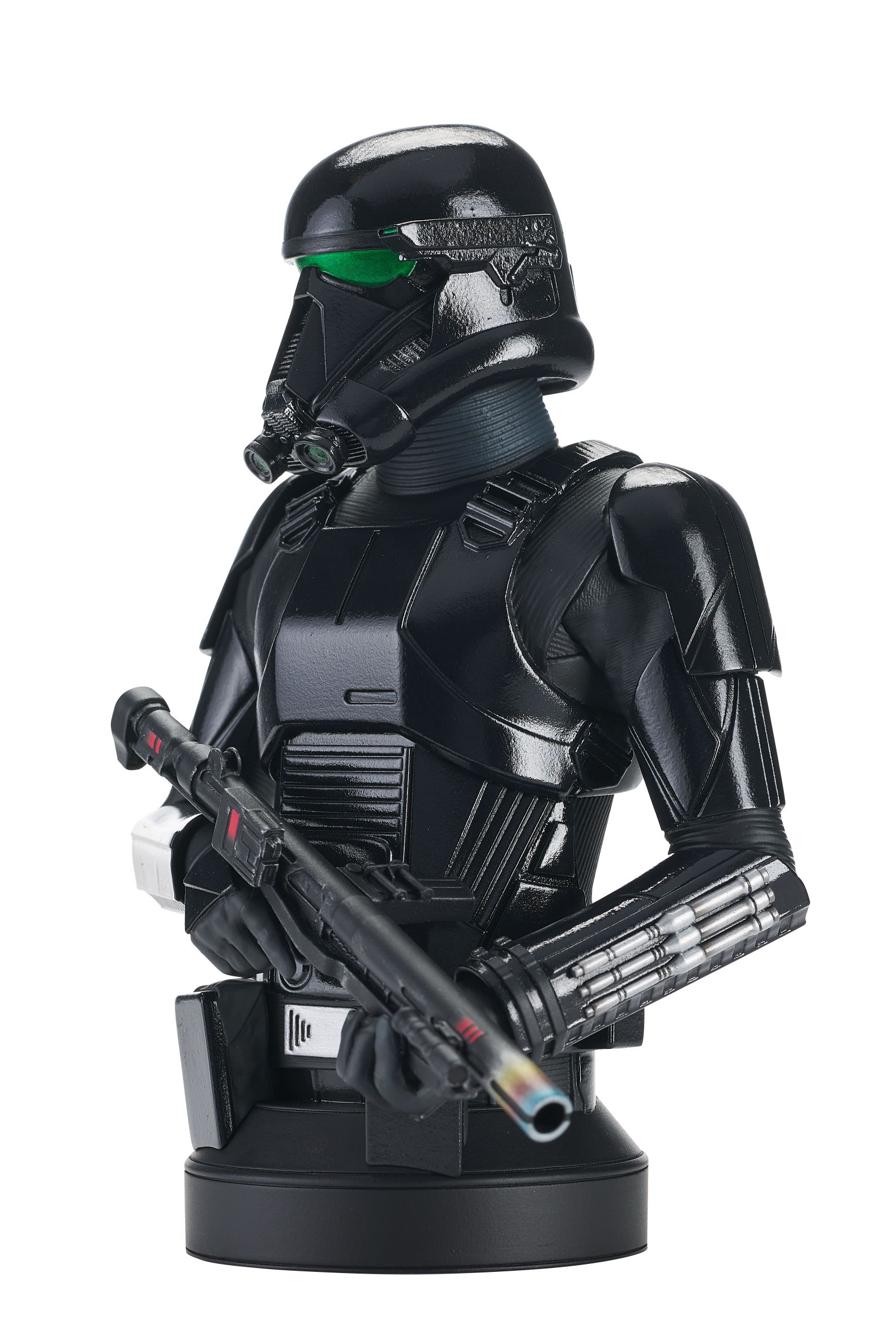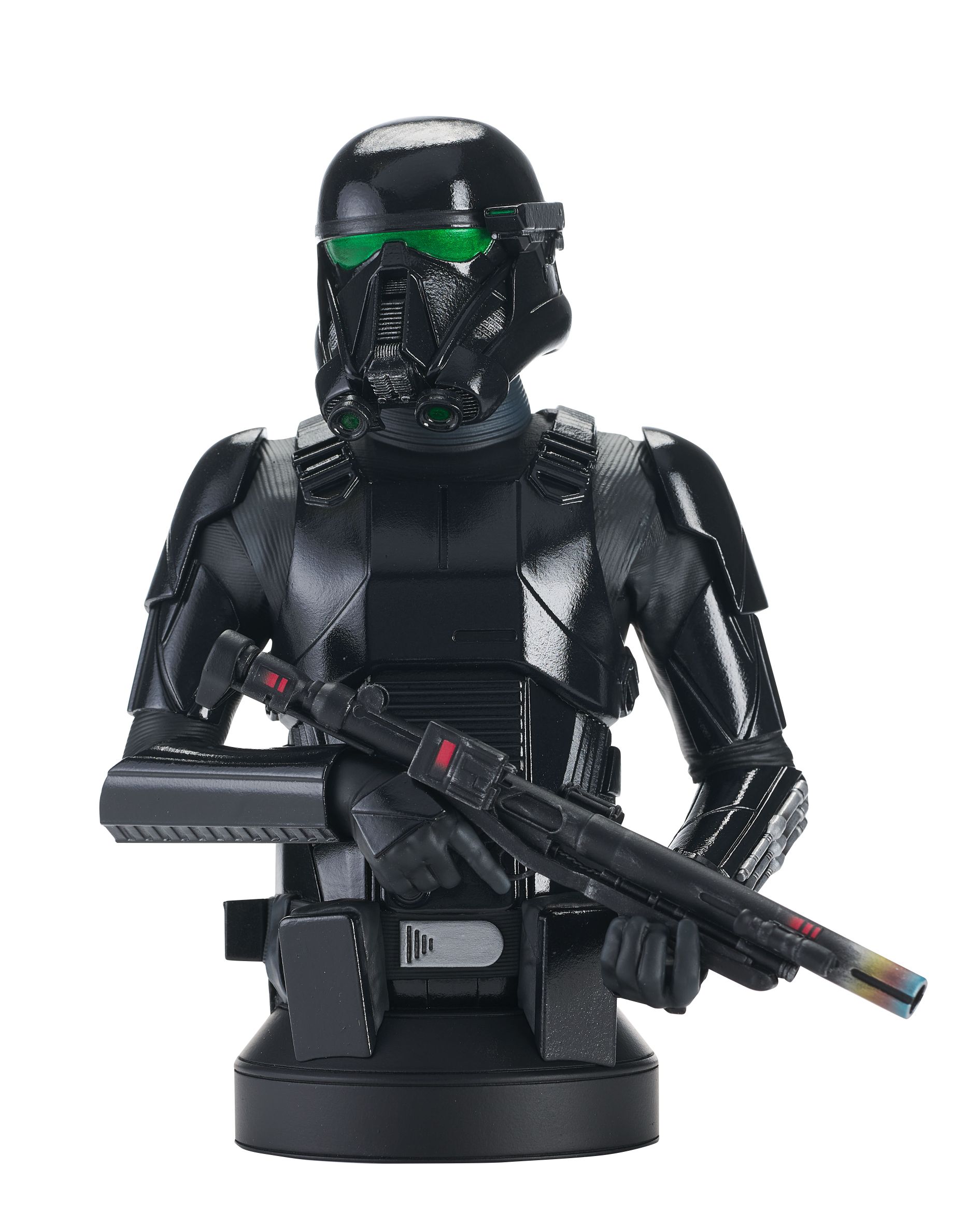 Star Wars Empire Strikes Back Boba Fett Legends in 3D ½ Scale Mini-Bust
A Gentle Giant Ltd. release! The Star Wars universe's favorite bounty hunter is now a Legend in 3D! Measuring approximately 10 inches tall, this half-scale bust of Boba Fett is based on his appearance in Star Wars: The Empire Strikes Back, and features detailed sculpting and paint applications. Limited to only 1,000 pieces, it comes packaged in a full-color box with a numbered certificate of authenticity. Designed by Joe Allard, sculpted by Rocco Tartamella! (Item #MAY212117, SRP: $200.00)
Star Wars Revenge of the Sith Obi-Wan Kenobi Milestones 1/6 Scale Statue
A Gentle Giant Ltd. release! Battle Droids beware! Obi-Wan Kenobi wields his lightsaber in defense of the Republic in this all-new 1/6 scale statue. Measuring approximately 12 inches tall, this Milestones sculpture features sliced-up battle droid parts on its base, and shows Obi-Wan striking a fighting stance. Limited to only 1,000 pieces, and featuring detailed sculpting and paint applications, it comes packaged in a full-color box with a numbered certificate of authenticity. Designed by Joe Allard and sculpted by Gentle Giant Ltd.! (Item #MAY212118, SRP: $250.00)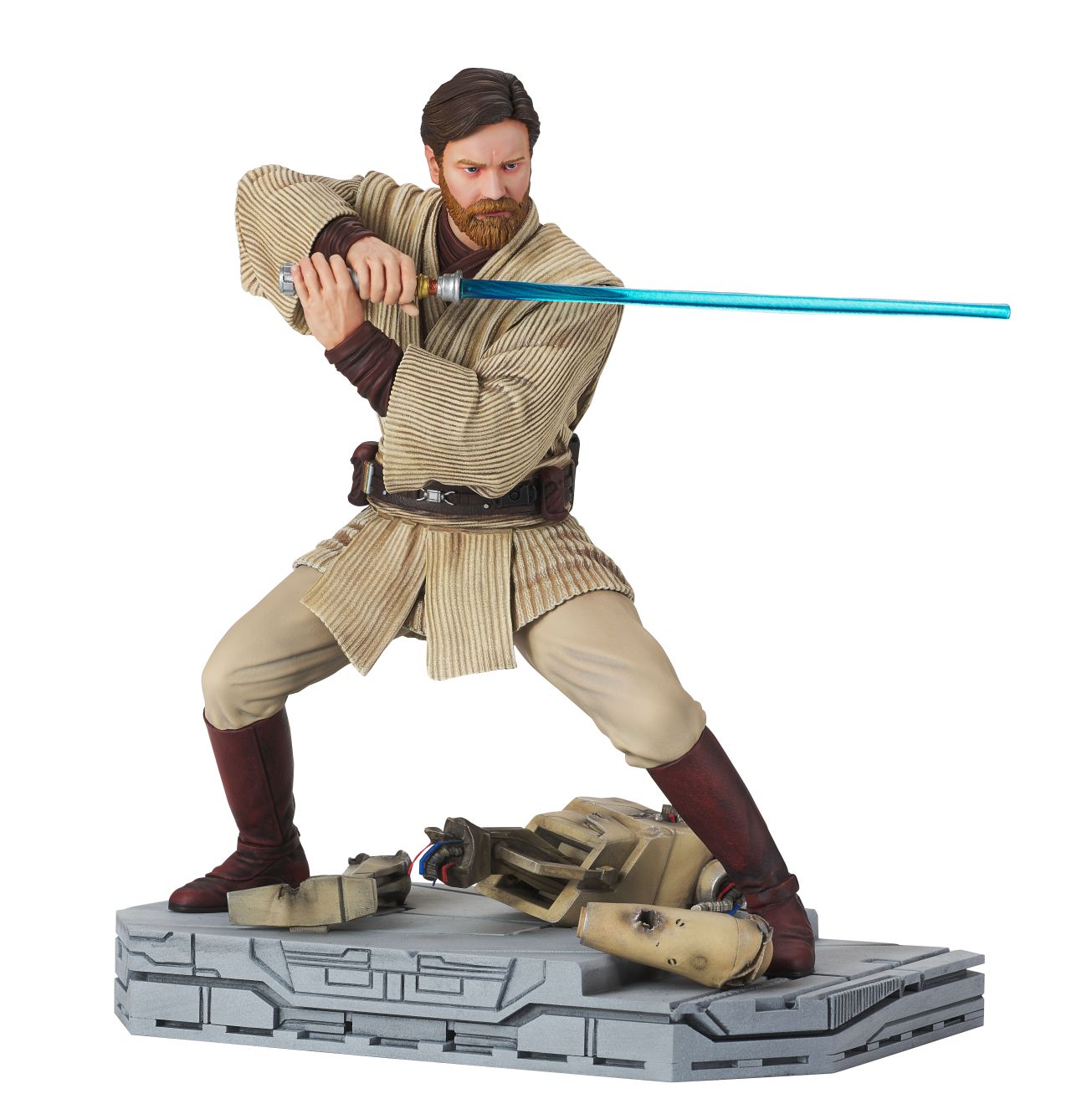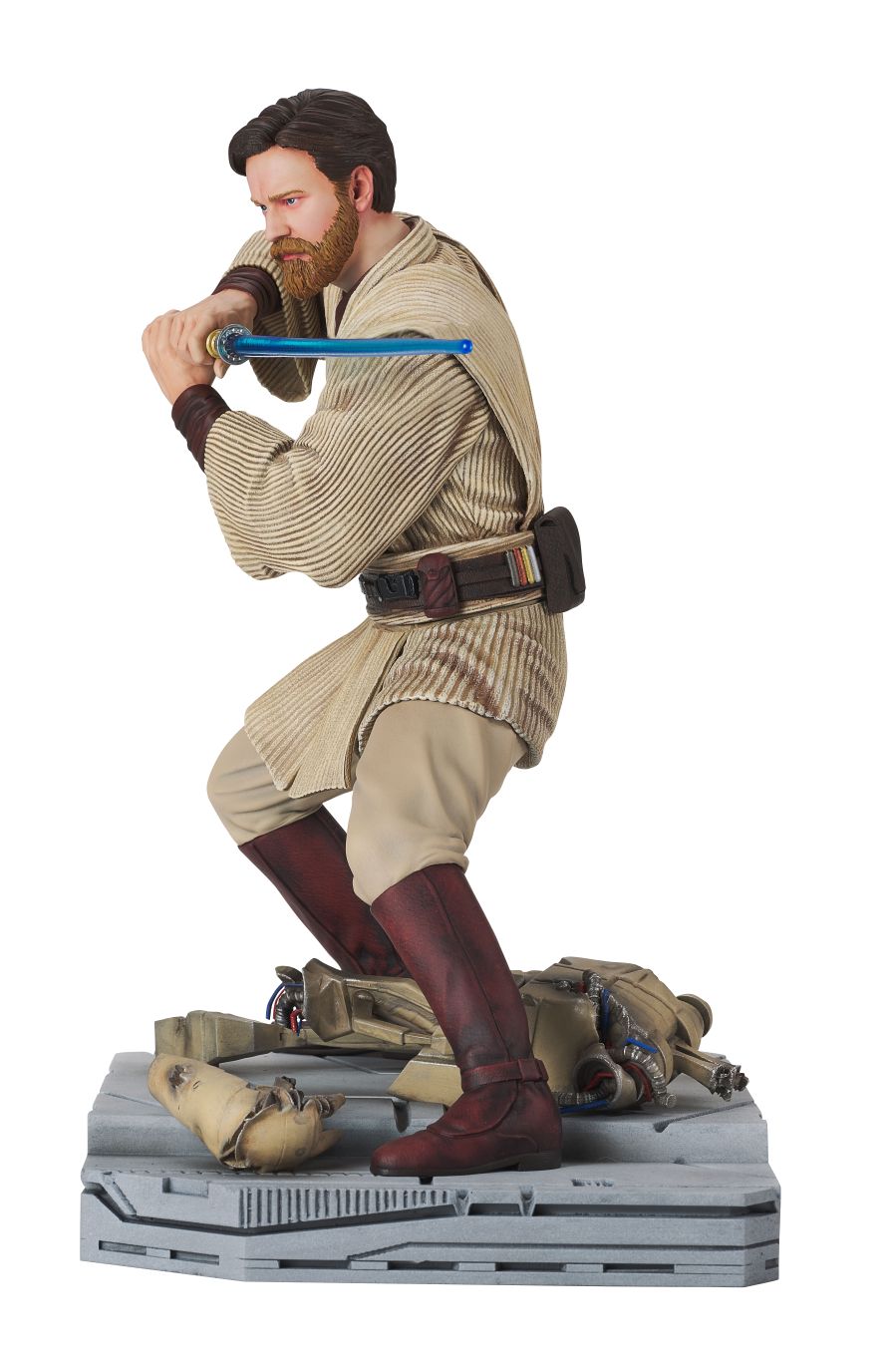 Star Wars Darth Vader Concept Jumbo Action Figure
A Gentle Giant Ltd. release! The newest Jumbo Star Wars action figure goes back, way back, to the beginnings of Star Wars! Based on the concept art for Darth Vader, this new 12-inch figure features an all-new concept-inspired head sculpt, a new blue-and-black paint scheme, a vinyl cape and a retractable lightsaber! It comes packaged on a resealable, retro-style blister card, so you can hang him on your wall or take him out and play with him! Designed and sculpted by Gentle Giant Ltd.! (Item #MAY212116, SRP: $80.00)